October 17th, 2019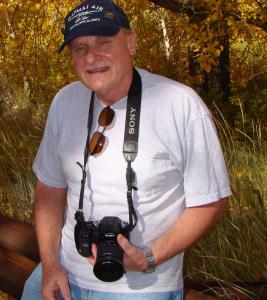 First, I would like to thank you for visiting Focus to Frame and my new blog. This is the first of many blog posts to come. I will be posting articles to include photography how to and photo shooting hints, photo locations, latest photography equipment, all future updates to my web site, and anything else related to photography. Please feel free to send me comments and contact me if you have any questions related to photography. I am on Facebook @ facebook.com/donaldpash and Twitter @ Twitter.com/donaldpash1. Please feel free to subscribe to my blog and get automatic email notices whenever I place new content on my site.
October 11th, 2019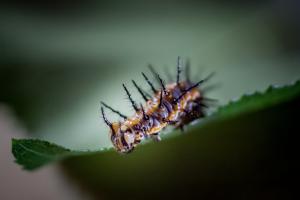 Mastering the art of macro photography in nature takes time and patience, but knowing when, where, and how will make it easier for you. You will find an abundance of subjects, from your backyard to the local park systems to do macro photography. You don't need to travel long distances to get great macro subjects. I took the photo you see on this post of the dragonfly's head in my back yard with my digital SLR and 50MM macro lens. Macro is much different from other forms of nature photography because we sometimes shoot subjects within inches of the camera. A digital SLR camera will work best for macro, and as far as what brand, I've seen them all, from the 6-megapixel to the 24-megapixel, used by photographers. Matching the right macro lens with the subjects you plan to shoot is essential. Macro lenses will range in focal length from 50mm to 200mm. 50mm and 60mm lenses are suitable for shooting stationary subjects, but the short working distance between you and the item can make it tough for capturing butterflies, dragonflies, and other small insects that will flee as you get close. When shooting small insects, you will need something in the 90mm to 105mm range.
October 11th, 2019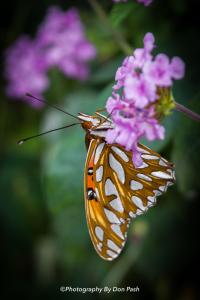 I added two Monarch Butterfly images to my Macro Gallery that I captured in our back yard today. I caught him on the flowers of our Carolina Jasmine hedge. This is a good sign, having them show up this early in the season. That tells me we will have a great display of these beautiful creatures in southern California this year. Monarch butterflies are the most beautiful of all butterflies, some say, and are considered the king of the butterflies, hence the name monarch. They migrate north and east into the USA from Central Mexico to find a place to lay their eggs. This starts stage one and generation one of the new years for the monarch butterfly. Please feel free to visit my Macro Photo gallery at http://www.focustoframe.com/gallery/macro-photography/ to see more pictures of various other butterflies.
September 3rd, 2017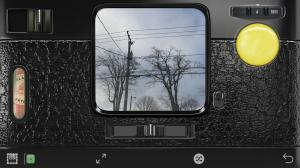 Hipstamatic is a stylish iPhone camera app for creating unique images with a retro or vintage look. It has a great selection of analog film, lens and flash effects, which allow you to easily turn an ordinary scene into something far more interesting, beautiful or dramatic. It also has a handy editing suite for fine-tuning your images in post-processing. There are two different camera modes/interfaces built into the app. You can choose lenses, film and flash combos.

Hipstamatic isn't considered a professional grade photo editor. However it certainly has a lot of user-friendly editing features that allow you to get your photo just right, including the ability to select a different combo of lens, film and flash than you used for shooting.

You can check out all of the features at http://hipstamatic.com/camera and download the latest version from the ITunes App store.

July 13th, 2017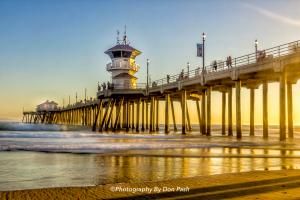 Seal Beach Pier in Seal Beach, California - I captured the images of Seal Beach Pier at sunset, highlighting a brilliant orange glow. Seal Beach Pier is located above the Pacific Ocean in Seal Beach. You will find it on Ocean Ave. where Main Street comes to a dead-end. It takes five or ten minutes to walk to the end of the pier and back, and along the way you will discover scenic vistas, a wind that can blow your hat off if it's not secured, and a restaurant at the end with indoor seating and ocean views. Unfortunately, Ruby's Restaurant at the end of pier burnt down May 23, 2016 and has not been rebuilt.
Huntington Beach Pier, California - I captured the images of this pier at sunset from two different locations and angles highlighting the dazzling oranges and yellows of light. Measuring 1,850 feet in length, the iconic Huntington Beach Pier is one of the longest piers on the West Coast. Jutting out into the Pacific Ocean at the intersection of Main Street and Pacific Coast Highway, it symbolizes the heart of Huntington Beach and is the most photographed spot in town. The pier and the city came into existence together in 1904, and thanks to historic surfing demonstrations by legendary Hawaiian watermen George Freeth and Duke Kahanamoku, this landmark is an integral part of Huntington Beach surfing lore. Rebuilt after two storms in the 1980s, the pier is all about simple pleasures.

June 19th, 2017
Pro HDR is my first of a series of sophisticated apps that will expand your creativity and make wall-worthy pictures from your iPhone.
Simply put, HDR is a photographic technique that takes photos exposed for both the highlight detail (bright areas) and shadow detail (dark areas) and blends them together pixel by pixel into a composite image that is exposed properly for both highlight and shadows. Back in the days, photographers used darkroom techniques during the development process to do this. Today your iPhone can do it at the time of the click! My image of "Big Sur Beach" is an example of an HDR processed photo.

Go to the iTunes App Store and get the Pro HDR or Pro HDR X based on your current iOS. Once installed it is easy, you just turn it on! Right there, under Options. Yep, that's it. Once you have it enabled, every time you take a photo, your iPhone will actually take several photos at varying exposures, apply some fancy mathematics to blend them together, and produce a single beautifully exposed image.

May 10th, 2017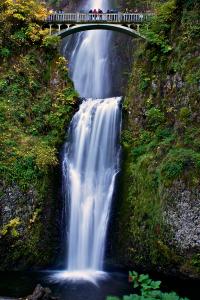 I just added 10 images I captured of the waterfalls and streams of the Columbia River Gorge to my Landscape Gallery. The Columbia River Gorge National Scenic Area protects the spectacular canyon where the Columbia River cuts through the Cascade Mountains - with cliffs and overlooks of Washington to the north and Oregon's mountains and waterfalls to the south. The Gorge is unique in its natural and cultural history, as well as its designation as a National Scenic Area. I highly recommend you add this destination to your travel itinerary.

May 3rd, 2017
I recently visited Joshua tree National Park in the Southern California Desert. It was springtime wildflower bloom. This is a unique desert setting filled with Joshua trees at the upper elevation.

Two deserts, two large ecosystems primarily determined by elevation, come together in the park. Few areas more vividly illustrate the contrast between "high" and "low" desert. Below 3,000 feet (910 m), the Colorado Desert (part of the Sonoran Desert), occupying the eastern half of the park, is dominated by the abundant creosote bush. Adding interest to this arid land are small stands of spidery ocotillo and cholla cactus.

The higher, slightly cooler, and wetter Mojave is the special habitat of the undisciplined Joshua tree, extensive stands of which occur throughout the western half of the park. According to legend, Mormon pioneers considered the limbs of the Joshua trees to resemble the upstretched arms of Joshua leading them to the Promised Land.

January 14th, 2017
I was selected as a finalist in a photography contest for "Cowboys & Indians" magazine. My photo, "Indian Warriors Crossing Little Bighorn River" is featured under the Action category, on page 85 of the February/March 2017 issue of "Cowboys & Indians", the premier magazine of the West. Please visit my "Cultural Events" photo gallery to see the complete collection of images I captured at this event. These were taken at the "2016 Little Bighorn Reenactment" in Crow Agency, Montana.